Dr. Ho-Young Chung was too young for this.

At 39, the Kamloops, British Columbia, Canada-based dentist had been practicing for a dozen years. After graduating from dental school in 2010, Dr. Chung first practiced general dentistry before deciding to shift to the referral-based implantology clinic, Kamloops Dental & Implant Solutions, that he owns and operates today.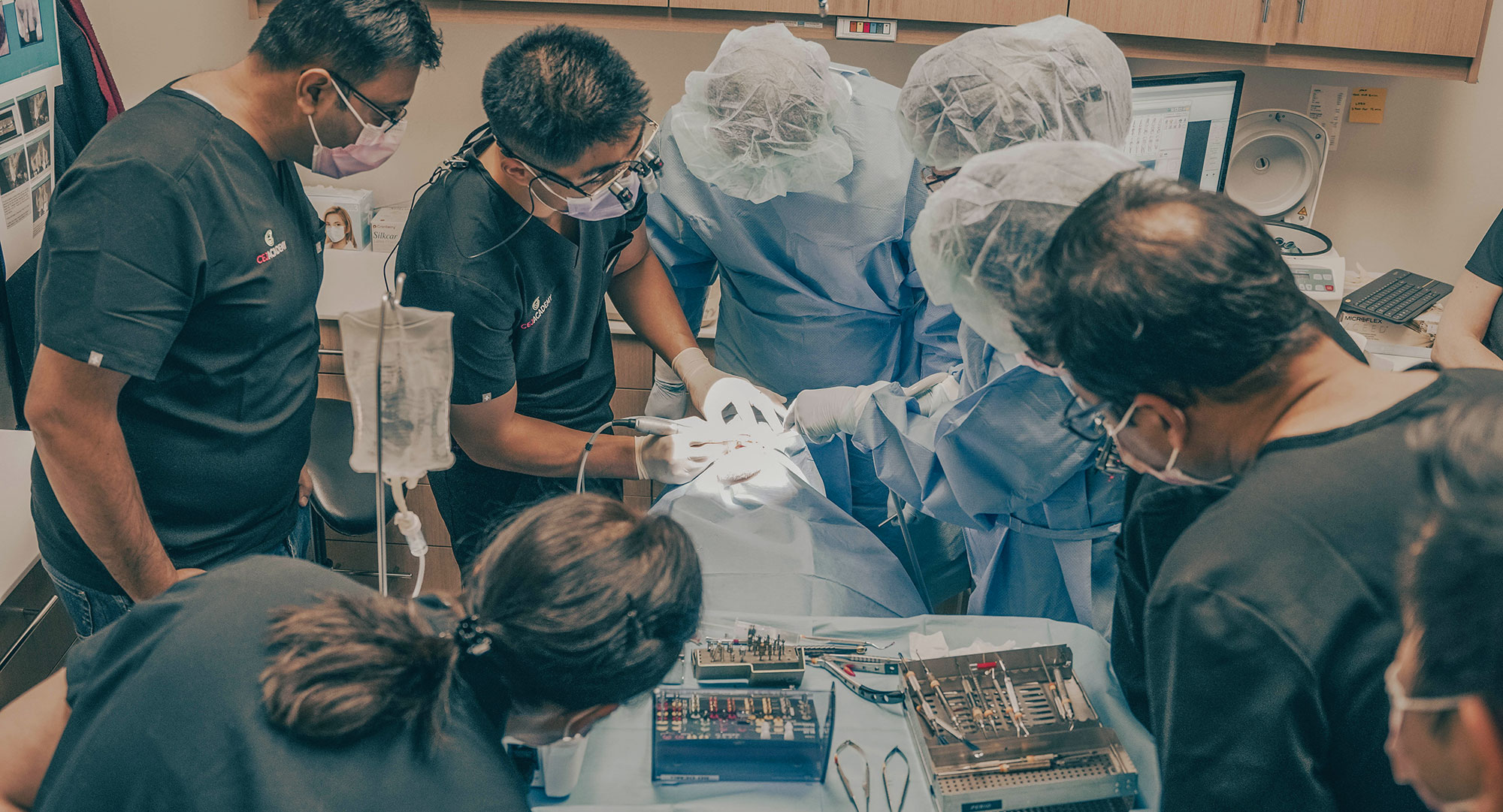 By 2022, Dr. Chung's practice was a regionally recognized institution. He was hardworking. He was successful. He was
Dr. Ho Young Chung. Image courtesy of Kamloops Dental and Implant Solutions. Dr. Ho Young Chung. Image courtesy of Kamloops Dental and Implant Solutions.
"I was exhausted," he recalls. "And in a good deal of pain."
Dr. Chung's back ached, his neck throbbed. Migraines that were once irregular events now occurred weekly.
Dr. Chung is far from alone; in fact, he is in the overwhelming majority. According to the ADA, a study of 170 dentists in various specialties found that nearly 3 in 4 suffered from musculoskeletal pain.1 In fact, as many as one-third of dentists retire prematurely due to physical ailments.2 Dr. Chung was definitely suffering the former and, he believes, at risk of succumbing to the latter.
"I didn't think I would make it to 20 years of practicing," he admitted. A dentist who had traveled internationally to invest in countless hours of implant continuing education to build a successful practice was approaching an untenable tipping point.
And unfortunately, his dream job and living nightmare were part and parcel. Dr. Chung loved dentistry, but the pain from hours of slouching, stretching, and straining were taking a toll on his body. Something had to give.
Through the years, he'd gone through several sets of various through-the-lens (TTL) Galilean loupes, some with better results than others. Unfortunately, none had enough declination angle, nor were they addressing what had become a pressing problem: his posture.
In early 2022, a colleague mentioned benefiting from a newer breed of loupes, ones ergonomically designed to allow an upright, nonstressful position while performing dental procedures. Intrigued, Dr. Chung purchased a set of Admetec Ergo loupes from North American supplier Andau Medical, in the three times magnification, the ergonomic equivalent of the magnification to which he'd become accustomed.
While he was excited to learn of loupes that could mitigate his operatory contortionism, Dr. Chung was somewhat hesitant about the switch to the indirect vision required by ergonomic loupes. In a fast-paced, time-sensitive practice such as dentistry, he had understandable concerns about how expedient and comprehensive the adjustment would be.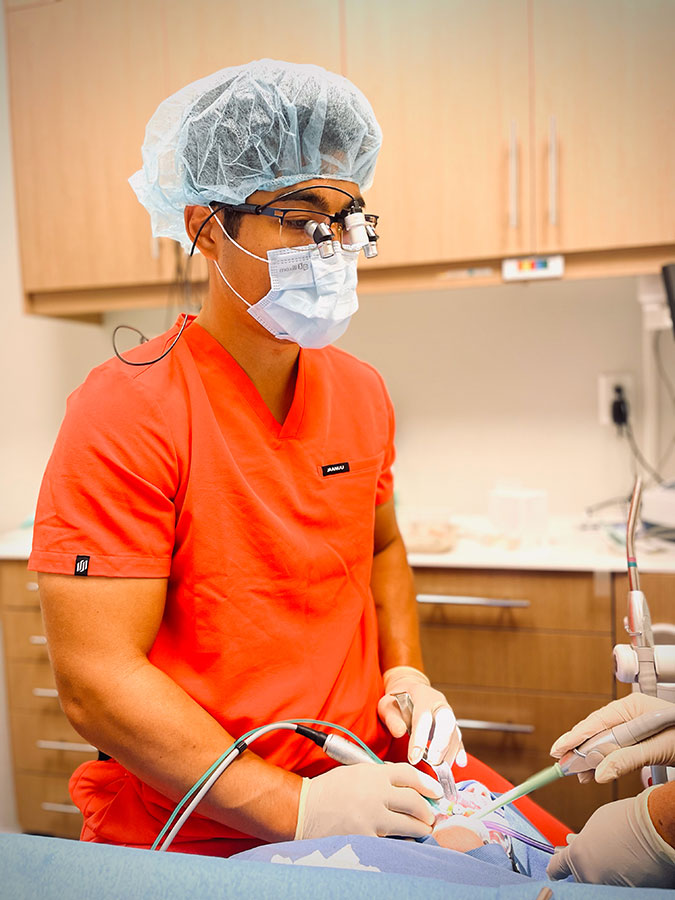 Because Dr. Chung performed surgery, which is high leverage and irreversible, the transition needed to be performed with care. On the first day, he broke the loupes in gradually, at first limiting their use to examinations rather than anything intricate or invasive.
By the second day of use, however, he felt confident enough to take a guardrailed leap of faith. Faced with back-to-back extensive implant procedures, Dr. Chung committed to beginning the morning with his new loupes and taking his lengthy day in stages — seeing how it went, so to speak. This approach brought reassurance that, if necessary, he could switch to his conventional loupes to complete the procedure in a timely fashion. He finished a full-arch implant surgery that day with the loupes and never looked back. "I haven't picked up other loupes since that day," he said.
In hindsight, Dr. Chung compares the process of transitioning to loupes to mastering conventional magnification tools early in his career. It took some stick-to-it-iveness and brain training, but the learning curve wasn't especially steep, and the ends more than justified the means.
"There's a mental block in needing to learn a new skill," he said. "Once I realized that I already possessed the skill of using magnification loupes, I only had to allow my body to adjust to the new working environment and everything became easier. It's about correctly framing expectations."
"Not only is my posture better, but the optics are improved as well," he explained. "Because the angle goes down, I can sit up properly and it's almost like looking over the patient's shoulder, which means I don't have to compromise my position. For example, as a right-handed dental surgeon, the upper-left quadrant of the mouth can be difficult to access especially with direct vision. Without proper ergonomics, I'm curled over like a shrimp."
The benefits, Dr. Chung contends, spilled over into his non-dentistry life as well — a sort of "no-pain, all-gain" boost that has made him both more professionally satisfied and personally happy.
"It's made a significant impact not only on my practice but my overall well-being," he explained. "I can approach my career with a renewed enthusiasm, with the confidence that it won't leave my back and neck writhing, or my head with a wicked migraine."
But first and foremost, his improved posture has helped make Dr. Chung a more effective, enthusiastic dentist.
"When you're tired and in discomfort, you can't work at your full potential," Chung said. Part of that potential, he claims, comes with his patient-centricity — his "bedside manner" for those in his dental chair.
"We enter this profession knowing we're working with human beings with personalities," he explained. "Many patients even come in with a fear of dentists. If we're not able to work at our full potential because our bodies are compromised, that body and mind connection makes us less calm, less patient, and as a result, less reassuring as dentists, as well as less nurturing as employers."
Dr. Chung has begun expressing these principles to students at a boutique implant training center he operates along with his business partner, Dr. Nekky Jamal. Dr. Chung recently spoke with a dentist who graduated just a few years ago. The young professional admitted to recently missing multiple days of work due to posture-related pain. When Dr. Chung shared his experience with ergonomically designed loupes, the young dentist's eyes lit up.
"The irony of the profession we love causing us pain — even to the point where we question our commitment to it — isn't lost on dentists," Dr. Chung said. "Our ability to sit and see in a pain-free position is paramount to not only our career but to our patients, our employees, and, yes, our families."
Dr. Ho Yung-Chung obtained his Bachelor of Science from the University of Victoria and his Doctor of Dental Surgery from the University of Western Ontario in 2010. He operates Kamloops Dental and Implant Solutions in Kamloops, British Columbia. He is also the founder of the CEJ Academy, a small-group program provides private mentorship and advanced implantology workshops including hands-on sessions, live surgery demonstrations, and supervised surgeries on actual patients.
The comments and observations expressed herein do not necessarily reflect the opinions of DrBicuspid.com, nor should they be construed as an endorsement or admonishment of any particular idea, vendor, or organization.
References
ADA New Dentist Blog. Practice Successfully, Live Well: Ergonomic advice to reduce work-related pain. https://newdentistblog.ada.org/practice-successfully-live-well-ergonomic-advice-to-reduce-work-related-pain/. Accessed August 8, 2023.
Valachi, B. Practice dentistry pain-free: Evidence-based ergonomic strategies to prevent pain and extend your career. Portland, OR: Posturedontics Press; 2008.